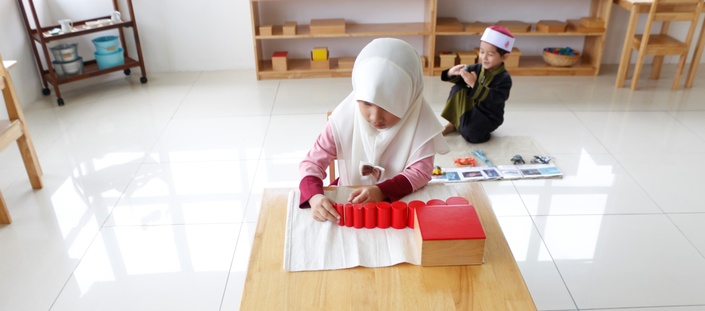 An Introduction to Islamic Montessori
Nurturing the Child's Natural Interest
Join us for a unique opportunity to attend an online introductory course in Islamic Montessori.
Discounts are available if payment is made through paypal or local bank transfer. For payment via paypal; Please send £36 to [email protected]. Please email me your confirmation of payment and I will enrol you on the course.
For payment in Malayisa; fee will be reduced to RM180, contact me on +60136384846 or [email protected] to make payment through MayBank.

Whether you are a parent or teacher, this course will give you a deep insight into child development and the Montessori method for teaching your children within an Islamic context.
Course Content
The sessions will include Montessori theory and philosophy with connections to Islamic principles covering:
Why is education so important to us as muslims?
What is Montessori?
Who was Maria Montessori?
Why is the Montessori method suitable for Islamic education?
Planes of Development
An overview of the first plane of development 0-6 years
An overview of the second plane of development 6-12 years
Absorbent Mind & Mathematical Mind
Sensitive periods for 0-6 & 6-12 years
The Montessori Triangle
The horme
The nebulae
Setting up a Montessori environment
Encouraging concentration
The process of normalisation
Sessions will be held in English only, but translations into other languages will be available at a later date.
Your Instructor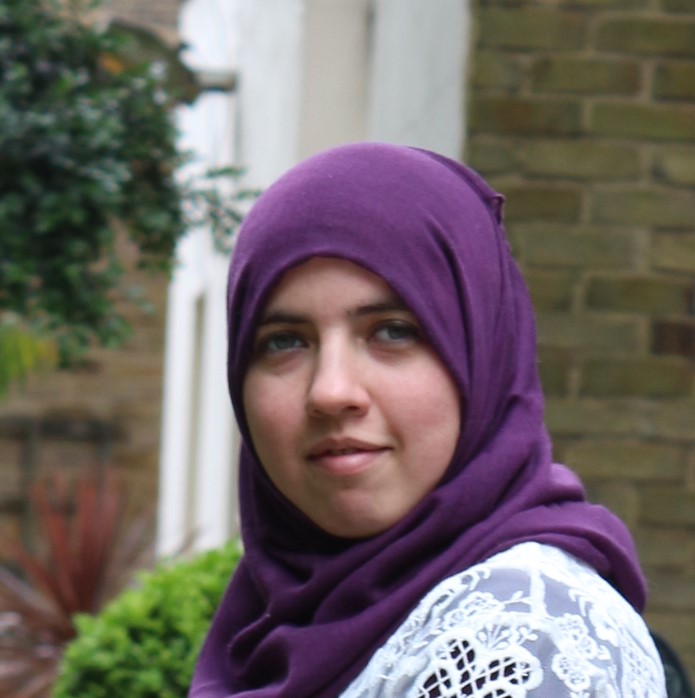 MACTE Qualified Montessori Teacher and Certified Trainer from the UK with over 15 years of Montessori experience. Certified in both Early years (0-6yrs) and Elementary (6-12 yrs).
Nusaibah runs an Islamic Montessori school in Malaysia which caters for children aged 3 years - 20 years. Nusaibah specialises in developing holistic curriculums, outstanding learning environments and engaging materials. She possess thorough knowledge of the Montessori philosophy for both the early childhood (0-6yrs) and elementary (6-12yrs) stages, as well as extensive experience working in a variety of Montessori schools in the UK and abroad. As a Montessori trainer, Nusaibah now focuses on providing a variety of authentic Montessori training courses and consultancy for Montessori schools and home-educators.
You can see more about Nusaibah and her work on FB @thelearningark @rumimontessori and IG @rumi_montessori.

Course Curriculum
Introduction : About this course.
Available in days
days after you enroll
Part one: An Introduction to the Montessori Method
Available in days
days after you enroll
Part two: A look at the planes of development and a more details look at the child from 0-6 years
Available in days
days after you enroll
Frequently Asked Questions
When does the course start and finish?
The course starts now and never ends! It is a completely self-paced online course - you decide when you start and when you finish. There are six sections in this course and I recommend working through one section each week. This will take you between 2-3 hours a week to watch the videos, review the additional materials and join the discussions. However, you may work through the course however slow, or fast you want.
How long do I have access to the course?
How does lifetime access sound? After enrolling, you have unlimited access to this course for as long as you like - across any and all devices you own. You can come back to the course at any time to rewatch the videos.
What age group does this course focus on?
The videos and materials for this online course focus on the Montessori philosophy from birth to 12 years. We do also briefly mention the Montessori principles for children older than 12.
Is the instructor available to answer my questions?
Yes, if you post a question in the comment section the instructor will do her best to get back to you as soon as possible. Alternatively, you can email your questions to
[email protected]
.
Is the instructor available to answer my questions?
Yes, if you post a question in the comment section the instructor will do her best to get back to you as soon as possible. Alternatively, you can email your questions to
[email protected]
.
Does this course include presentations of Montessori materials?
This course focuses on the Montessori principles and philosophy. I will not be presenting any materials during this course. However, we do discuss a lot of practical examples which you can implement immediately at your home or school. I will be launching other courses which focus on the Montessori materials and curriculum. However, the Montessori philosophy is the foundation of the Montessori method, this course will allow you to understand your child and direct you to know which activities you should be looking at. I recommend that everyone does this course first,
Is this course suitable for me as a parent?
Yes, this course is suitable for you as a parent whether you are homeschooling or not. This course will help you have a better understanding of your children's development and how you as a parent can meet their needs.
I am already a trained Montessori teacher, is this course suitable for me?
Yes! This course has been completed by many trained and experienced Montessori teachers who have loved the content and commented on how it has helped them gain a deeper understanding of the Montessori philosophy.
Testimonials
""This is an invaluable, holistic and thorough overview of the Montessori method with wonderful practical guides on how to implement the approach. Highly recommended for parents, teachers or anybody with an interest - whatever their knowledge level".
- Mrs Z (attendee of Montessori workshop; Malaysia)
"I'd fully recommend Nusayba's courses. She is very thorough and clearly very passionate about what she does. She is also very helpful in answering questions. It's such a blessing to have someone giving us the Islamic perspective on Montessori education. I look forward to hopefully doing more courses with her".

- Sarah (Home-educating parent: U.K)
"This course has given me so much more than what I expected. I learnt aspects about Montessori and education that I have never found in any books before. It also answered some of my deepest questions about learning and children development. I would recommend this course to any Muslim parents that are interested to find an Islamic and holistic approach to your children's education".

- Nazihah (Home-educating parent; Malaysia)
"I think this course is recommended to all parents especially parents-to-be because Montessori provides a holistic education which covers all the things that our child need for their development which are very important for their future. I learned a lot of things through this training. The explanation was very clear and also the live session was being saved at the facebook group so that we can watch it even after 5 years time 😍 I'm looking forward to attend the next training session".

- Nisa (Montessori teacher in training; Malaysia)
My name is Zaynah and I currently work in a Montessori nursery but am not studying Montessori. And so I found this course very beneficial and eye-opening. I have always struggled with identifying the relevance of the current school system and curriculum so introducing the Montessori philosophy is very interesting to me and seems to be much more relevant and actually revolves around the children. Also as a Muslim woman it has allowed me to look at how I would like to raise my own children inshAllah. I gained so much more knowledge and insight from this course than I was expecting and it was a very enjoyable experience for me.

Zaynah (Teacher in a Montessori school U.K)